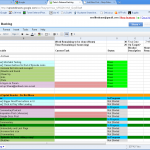 In my day job, I am a project manager/producer type. That means that spreadsheets and schedules are a large part of how I spend my day.
When I decided it was time to get it in gear and start working on Petra's Call, between making the comic, setting up the website and learning all of the Flash, I realized I had A LOT of work to do.
Being the project management nerd that I am, I adapted my favorite agile project management system, Scrum, to a solo operation.
I broke all of the things I needed to do into small steps and estimated how many hours it would take to do each one. Then I prioritized everything that needed to be done and set up a series of 2 week 'Sprints' to get everything ready for launch.
Every day, I update the doc with what I've done, and if something is taking longer than expected, I update the hours on the doc. If something new comes up, unless it's an absolute EMERGENCY, I add it to the 'backlog' of work that is remaining and keep focusing on my 2 week Sprint.
For me, it works wonders. It gives me a place to throw ideas for new features in the browser/website, let's me break all of the different things that I need to do into individual steps and makes sure that I stay focused.
If you want to check out the how I do it (with a clear look at some of my future plans for NRD/Petra's Call), I have made the doc public.
If you have any questions, comments etc on the process, please ask away! it works great for me and I'm sure it'll help other people overcome chronic procrastination.