Back at the start of 2010, when I started on this weird little Ninja Robot Dinosaur indie adventure, my goal was simple: Make the games I want to make and do them solo.
Solo. For a guy who has spent 15 years making games 'the traditional corporate way', this may seem unusual, but it was a big part of the goal.
I like working by myself. I enjoy tackling the design, programming and art problems that come with making a game. When I'm sitting at my desk, staring at [code/a level/a sprite animation] trying to figure out how to make it work better, I am in the zone. It's my happy place.
Nick Waanders, founder of Slick Entertainment (n+ and Scrap Metal on XBLA) is an indie developer in Vancouver. We've peripherally known each other for years (he left Relic the week after I joined) and became friends a couple of years ago.
The first time Nick asked me to work with him, I said no. In hindsight, I was probably quite rude about it, but, you know – I wanted to work solo.
Nick was persistent. He asked me a few more times, throwing the suggestion out whenever we got together. Then he suggested a week long jam, we got together over lunch, threw some ideas around, but nothing really came of it.
When the Global Game Jam came around, Nick and I were on the same team and throughout the weekend, Nick kept planting the seed. Even when he wasn't saying the words, I could hear him whispering in my ear, like Vader to Luke: "Join me Shane." At one point, I swore he told me he was my father. Whispering-in-my-head-Nick denies he said anything of the sort.
Then came Shellrazer.
Vancouver has a monthly indie developer meet-up called Full Indie. Nick and his partner in crime, Jesse the Drawbarian, were showing people things on their phones. People were excited. I was curious.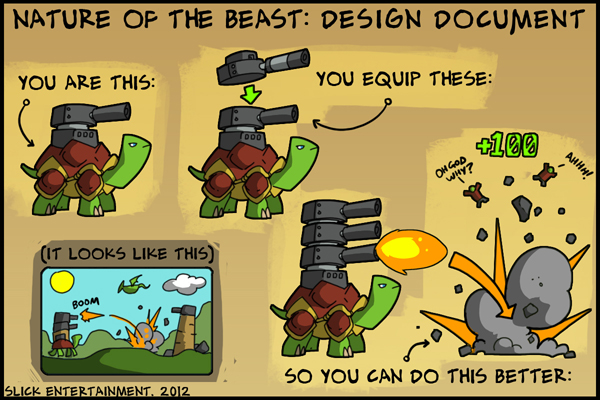 Nick came up to me and showed me some of the visual design that Jesse had put together and Nick looked at me and asked one more time: "Do you want in on this?".
There wasn't a second of hesitation.
"Dude. It's a giant turtle, with guns, who shoots things and they blow up. Let's do this. I'm in."