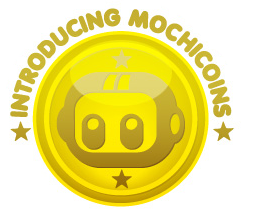 Mochi the popular providers of tracking tools and advertising for Flash Game developers recently introduced Mochi-Coins – a micro-transaction engine that developers can integrate into their Flash games (or comics???)
As any indy creator knows – every revenue option requires some work. Ads are easy, t-shirts are harder and getting set up to process and manage micro-transactions – well, before Mochi Coins, you needed a whole team for that.
Basically – Mochi Coins is to independent digital content developers (movies, music, comics, games, art) what eBay and Paypal were for Beanie Baby Collectors. This literally changes everything.
Have a song playing in the background of your movie? Let people download it for $.99. Want to see a making of video for a video game? Unlock it for $.99. People want an HD version of your webcomic? They can unlock if for $.99.
Tracking whose account has what, dealing with payments and multiple credit cards, etc – that's all handled by Mochi.
The iPhone App Store just came to the Internet – and I'm surprised more people aren't excited.
In a brilliant showing, as Mochi-Coins grows, the developers at Mochi are keeping their ear to the ground and are addressing concerns and questions as they come up from the development scene and have addressed these in a recent blog post.